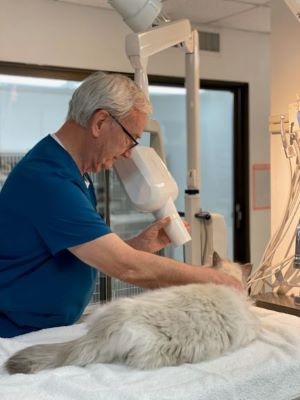 February is National Pet Dental Health Month (Special Offer Extended Through March)
Get $50 off your pet's dental cleaning!
We also would like to introduce our new dental x-ray machine. Any dental x-rays required during surgery are free of charge during our special!
Something to Chew On – Helpful facts on your pet's dental health!
Periodontal disease is the most common disease in dogs and cats.
Approximately 80% of dogs and cats over the age of 3 years have gingivitis or periodontal disease.
A dog's mouth is the ideal incubator for all kinds of bacteria to thrive, partly because the mouth is warm and moist and has nutrients present for organisms.
Oral health issues can lead to the heart, liver and kidney disease. That's because the toxins from periodontal disease are absorbed into animal's blood streams.
It only takes 48 hours for plaque (removable with toothbrush) to calcify and turn into tartar (which does not come off with brushing).