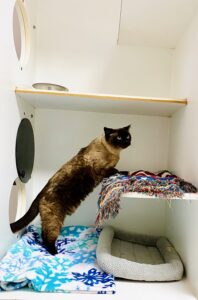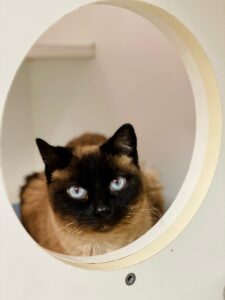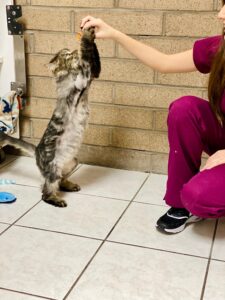 Our cats have their own room with their own specially designed area away from any barking or noise that may cause stress. Whether your cat stays in our cozy condos or in our spacious suites, rest assure that they will enjoy their stay with us. We provide litter boxes, food bowls, blankets, toys and lots of love.
Each cat gets personal attention from our kennel technicians. Some cats love to relax and sleep, but we also offer play time for those who need a little excitement during their stay. During play time our cats are able to roam freely in our cat room with a kennel technician monitoring them at all times. We offer plenty of toys so our cats can play just like they do at home.  You are welcome to bring any items from home that can help your pet be feel more comfortable.
We know your pet will have the purr-fect stay here with us! Our kennel technicians will go above and beyond to make sure your pet has a fun, loving and stress-free stay.  Give us a call to schedule a reservation! 480-963-3003
BOARDING REQUIREMENTS
We want to help keep your pet healthy while they are in our care. All cats must be current on an annual exam and vaccinations.

VACCINATIONS:
Rabies
FVRCP
Feline Leukemia
Fecal Screen w/ Giardia
(outdoor cats/ cats living with outdoor cats)
Flea/ Tick preventative
(only required for outdoor cats)
If your pet's vaccines are not current, please make an appointment at least 7 days prior to their stay.
If you get your pet's vaccines elsewhere, please have a copy faxed/ emailed to us prior to your pet's stay. Our fax number is 480-899-0705 or [email protected] (We only acknowledge vaccinations given by a licensed veterinarian.)
**Exam & treatment charges apply if pet receives vaccinations while in boarding.
---
Any questions? Please give us a call at 480-963-3003.
Or feel free to stop by for a tour anytime during our regular business hours.
---
Check in:
7:00AM – 5:30PM Mon – Fri
8:00AM – 2:30PM Sat
Check out:
11:00AM
After 11:00AM we do charge for an additional day, just like people hotels.
---
NEED TO BOARD YOUR PET? RESERVE A SPOT TODAY!