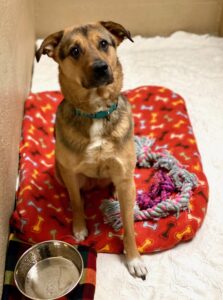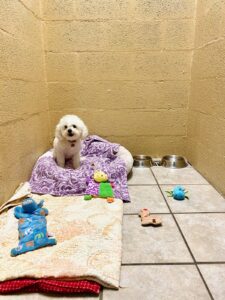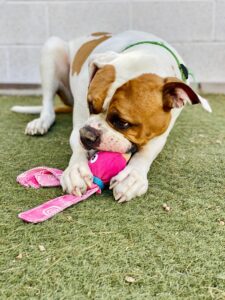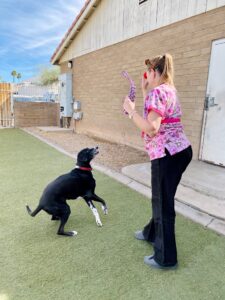 We know that leaving your pets behind while traveling may be difficult. Our qualified kennel technicians are here to make sure your pets get the love and care they deserve while they are away from home. We offer two different sizes of kennels to make sure your pet has enough space while they are boarding. Our dogs are taken out 4-5 times a day to our outdoor play area, which has plenty of grass and gravel for those who can be a little picky during potty time.
All our dogs receive personal attention from our kennel technicians. We offer plenty of toys, beds, blankets and bowls but we understand that sometimes bringing something familiar from home may make your pet feel more comfortable while they board with us. You are welcome to bring any items that can help your pet feel more at home. We encourage owners to bring food with specific instructions provided. If needed, we provide food at no extra cost that our doctor has approved.
We guarantee that your furry companion will enjoy their stay with us. Our kennel technicians will take every step to ensure that your pet is happy and comfortable throughout their stay and will treat them like the valued family member they are.
Give us a call to schedule a reservation, we will be your pet's home away from home! 480-963-3003
BOARDING REQUIREMENTS
We want to help keep your pet healthy while they are in our care. All pets must be current on an annual exam, vaccinations, as well as an up to date fecal test.

VACCINATIONS:
Rabies
Distemper Parvo (DA2PP)
Bordetella
Fecal screen w/ Giardia
Flea/ Tick preventative
(If done at home, please provide proof)
If your pet's vaccines are not current, please make an appointment at least 7 days prior to their stay.
If you get your pet's vaccines elsewhere, please have a copy faxed/ emailed to us prior to your pet's stay. Our fax number is 480-899-0705 or [email protected] (We only acknowledge vaccinations given by a licensed veterinarian.)
**Exam & treatment charges apply if pet receives vaccinations while in boarding.
---
FECAL TESTS
Fecal testing is required within the past twelve months, or proof of a negative fecal done by another veterinarian within the same time frame will be required.
Fecal samples need to be dropped off at least 48 hours prior to admission to allow us time to confirm negative results.
If fecal results are positive, dogs will stay in our isolation area for an additional charge per day until treatment is administered and a negative fecal is confirmed.
**Exam, isolation charges & treatment charges apply if fecal results are positive.
---
Check in:
7:00AM – 5:30PM Mon – Fri
8:00AM – 2:30PM Sat
Check out:
11:00AM
After 11:00AM we do charge for an additional day, just like people hotels.
---
NEED TO BOARD YOUR PET? RESERVE A SPOT TODAY!